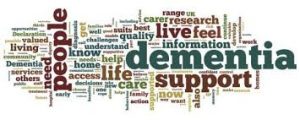 ARE YOU LIVING WITH DEMENTIA OR WORRIED YOU ARE DEVELOPING DEMENTIA?
If you feel as if you're becoming a lot more forgetful and especially if you are over the age of 65 then it may be seen as a good idea to go and talk with your GP and discuss the earlier signs of dementia and whether this is what you are developing. However, just because you are becoming forgetful it doesn't necessarily mean you have dementia. As you get older you may find that you develop more memory loss and this could be affected by many different things like tiredness or stress and this may be normal for you. You may also find that certain medication you are on may cause you to forget things and become confused. There are many different forms of dementia and they come with many different symptoms. Some more common forms of dementia are-
Alzheimer's dementia
Vascular dementia
Dementia with Lewy bodies
Frontotemporal dementia
WHAT IS DEMENTIA?
Dementia is an extremely common condition that occurs in all types of people. Occurrence of dementia usually increases as you get older. Dementia is known to be a group of related symptoms which is linked with an ongoing decline of the brain's abilities. The related symptoms that may develop in dementia are:-
memory loss
mental agility
language
judgement
understanding
thinking speed

 There are many ways in which we as a company can help if you if you feel like you need some extra help in your own homes whether this be with your personal care, or any domestic task, assisting or prompting with any medication We can also help you with the everyday things in life like helping prepare your meals or maybe writing a list for your shopping and organising delivery.
SYMPTOMS TO LOOK OUT FOR IN DEMENTIA…
Dementia is caused when the brain is damaged by diseases, such as Alzheimer's disease or a series of strokes. Alzheimer's disease is the most common cause of dementia but not all dementia is due to Alzheimer's. The specific symptoms that someone with dementia experiences will depend on the parts of the brain that are damaged and the disease that is causing the dementia.
http://www.nhs.uk/Conditions/dementia-guide/Pages/symptoms-of-dementia.aspx
https://www.alzheimers.org.uk/site/scripts/documents.php?categoryID=200120

Alzheimer's Society provide a national helpline where people can ring up if you have any concerns about Alzheimer's dementia or any other form of dementia. The Alzheimer's Society dementia helpline is 0300 222 1122 and they can provide information, support, guidance and what other appropriate organisations there are which can help.
Thinking ahead…
We as a company encourage you to start thinking ahead about the continuing care for yourself or your loved ones. There are many different websites that go into a lot more details about advance care planning and thinking ahead. Extra Care Home Services are here to talk to at any time or you may prefer to speak with a GP or other Health Care Professionals.  Here are some links which you may find useful.
http://www.dyingmatters.org/sites/default/files/user/images/Resources/Promo%20materials/Leaflet_2_Web.pdf
Information about DNAR forms.
ARE YOU A CARER, CARING WITH SOMEBODY WHO HAS DEMENTIA? OR A FAMILY MEMBER WORRIED ABOUT HOW TO SUPPORT YOUR LOVED ONES?
When somebody is diagnosed with dementia and find that their mental abilities are getting worse, this could make them feel very vulnerable and reliant on you as a carer. They may also feel like they need reassurance and support from you  to help them to understand and accept what is happening. The people who are the closest to them which include their carers, family and friends need to help the individual to retain their sense of identity and feelings of self-worth. To find out more about what to do  in order to support and help somebody who has dementia or recently been diagnosed here are a few websites that will contain lots of information for you.
OTHER SERVICES THAT ARE AVAILABLE TO PEOPLE WHO HAVE DEMENTIA AND SUPPORT FOR THEIR FAMILIES AND FRIENDS