Service Users Feedback 2022
" I feel 100% safe every day. I was very anxious at home before.I look forward to seeing them every morning. They give me a lot of confidence in my home. They support me in every way. I could not cope without them all. I call them my" angels" who help me every day." SC
I can have a laugh and joke with all carers" MH
"All extremely friendly and kind" JH
Family Thank You's July 2022
"Thank you all your help with my Mother"
"Thank you Sarah to continue to run a tight ship during challenging times for you. All the team have stepped up providing consistency of care. It is  great confort for us to know that mum is so well looked after.!" CD
" All the team have a lovely relationship with our mum and continue to care for her beyond their specified remit"
"Sally is incredible is in contact if required and deals with our relative indulgently and makes good decisions" JD
Family Thank You's December 2021
To Sarah, Andrea & everyone else who worked with mum – "Thank you all so much for everything you did for mum. We really appreciate the kindness & care that she received from everyone." (HC & DK son and daughter of SK)
To Extra Care Carers – Thank you for dedicating your life to helping others. Your compassionate touch has done so much to ease our load and brighten our Mum's days. With much appreiation. Thank You! (GL MC & family)
With our thanks as always for taking care of our mum (family of SG)
With many thanks for your continued care and kindness to my aunt ( family of DE)
With best wishes and many thanks for all you do for me (PB)
We are delighted to announce our win at the 2021 Norfolk Care Awards. In two categories. Firstly our Registered Manager Sarah Lord won in the" Care Leader" category and all our social care staff were awarded the "Harrold Bodner Outstanding Achievement" award. Well done Team Extra Care
 https://www.edp24.co.uk/news/health/winners-of-norfolk-care-awards-2021-revealed-8356736
Family feedback September 2021
" I would like to thank you for the excellent service we have received from your company. You have a wonderful team of carers and I know C was very find of them and always looked forward to his visits"
Extra Care launches their "Book of Happiness"
In April 2021 we launched a competition for local school children to come up with pictures, poems and stories about what makes them happy so we can produce a book as a gift to all our Service Users. We are delighted with the finished book. Many thanks to @SRPrint for designing and printing for us and for the local media publicising it.
Service Users Feedback February 2021
All of our service users gave us a 100% satisfaction rating this time in all areas of our work and would recommend us to other people.
" I enjoy the visits from the girls. They are pleasant! " MC
"Carers have become friends. I can have a laugh and joke with them. They all make a good cup of tea"  All carers deserve a medal. "MH
" Very satisfied – almost part of the family. Andrea, Carol & Kim could not be more understanding and helpful"
Family Members Feedback February 2021
" Mum has formed a good relationship with all the girls that visit her. She feels safe and comfortable in their company" GL
" Excellent quality of care for mum, including weekly email summaries that are invaluable given distance and lockdown. Sadly mum cannot be independent any more but the carers enable her to live with dignity and good humour" AG
" Sarah has become a key contact for me regarding the welfare of our mum. She is always quick to respond, open to any questions or requests and deals with situation with the perfect balance of empathy, friendliness and professionalism. Carol goes above and beyond duties requested in caring from mum and this is much appreciated." CD
" I am always impressed with the quality of service and I feel you go above and beyond for my mum. Mum is very complimentary about Hayley and I find Sarah incredibly helpful and supportive" HC
" All carers treat C with utmost respect and friendliness" LS
" The best!" SW
"G looks forward to visits from his carers and enjoys the service he receives. No complaints whatsoever.  Sally is exceptional" JD
CHRISTMAS WISHES 2020
"Thank you for all your services given to me" BP
"Thank you once again for taking such good care of my Nan" ND
" Thank you for everything you do to help Mum – your kindness and care really do make such a difference to her life" CD
"Thanks very much for the lovely card and gifts. I appreciate all that you do for me and our chats" MC
WE ARE OUTSTANDING
We are absolutely thrilled and delighted to be awarded "outstanding" with the Care Quality Commission following our recently inspection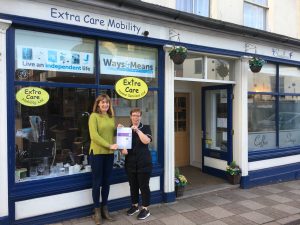 https://www.northnorfolknews.co.uk/news/staff-praised-at-outstanding-care-agency-1-6450484
Christmas Wishes December 2019
" Thank you so much for all your help throughout the year. Very much appreciated" GM
" With our thanks for everything you do for our mum" FAMILY OF SG
"Thank you for all your help and support" FAMILY OF EW
"Thank you for looking after my Nan" FAMILY OF SG
"Thank you for all your help and kindness in caring for my mother" KE
Service Users feedback November 2019
" I think Sarah the senior manager is very skilled and personally involved to provide this very good service"
Family members feedback October 2019
"Extra Care Home Services have made a big difference to my mother's quality of life for around 2½ years.  A freshly cooked midday meal was important to her well being and pleasure and for 4, and latterly 5 days per week, this was cooked by a member of the Extra Care team.  Their reliability, cheerfulness, and attentiveness to how she wanted things done was excellent, much appreciated, and took a significant burden off the family.  The arrangement was only terminated when declining health forced her to take up residence in a Nursing Home." IB
"All the carers are very kind to my relative and he likes them all. A very good service is provided" ANON
"It is a credit to the carers that our mum considers them all as her friends and she is treated with kindness and dignity. In particular Mum has told us that "C" always shows care and kindness beyond her duties when I visit mum I am made to feel welcome and part of her care." CD
"I feel confident that Mum always receives an excellent level of care" HC
Family members feedback July 2019
" I would like to take the opportunity to thank you and your team for all your help you have given dad over the past few months – you all our extremely caring and kind" (PD)

Family Members Feedback October 2018
"THANK YOU! Extra Care provides a first rate service which has allowed mum to live a supported independent life in her own home. It is a deeply caring and personal service" (FC)
"I have always felt that the level of care my mum receives is excellent" (HC)
Service User Feedback October 2018
"I'm very happy with the service" (SC)
"All the ladies are very good and help in all ways" (BJ)
"Susan and Carol are excellent" (SK)
"I am very satisfied with the friendly care which I receive and appreciate it"
We are proud to announce that after months of hard work and portfolio building that Extra Care have been awarded as one of 5 home care providers in Norfolk the Six Steps to Success accreditation for End of Life Care for Domiciliary care. We are really proud of this achievement as we are passionate about working to support people in their homes as their preferred place of dying if this is what they wish.

WE HAVE MOVED!!!! 🙂 🙂
We have decided to move our office to be with our sister company Extra Care Mobility. Both Extra Care Home Services and Extra Care Mobility are based at 24 Market Place, North Walsham, NR28 9BS. We moved in with Extra Care Mobility on Thursday 19th July and we are now settled nicely.
Extra Care Home Services were awarded " Highly Commended" at the National Skills for Care Accolades in London.
Battling the snow on a very cold day on 1st March 2018. The management team bravely managed to reach London to the "Oscars" of the care world where the company was shortlisted in the top 3 in the country for Best Employer of under 50 staff. It was a fantastic evening hosted by the well known Anton De Bueke. We didn't win overall but to be awarded Highly Commended at National level is a massive achievement and one of which we are very proud.
Extra Care Home Services awarded "Person Centred Care and Support" award at The Norfolk Care Awards 2018
What a fantastic night we all had at the 5th Norfolk Care Awards held at Sprowston Manor. We all came home extremely proud that we won the award for Person Centred Care and Support.
SERVICE USER TESTIMONIAL
"Very professional always" (TM)
FAMILY MEMBER TESTIMONIALS JANUARY / FEBRUARY 2018
"Although Mrs X does not think she needs any help the help given to her allows her to live in her own home and helps me as I am her only support as her family live in america." (WJ)
"It was very obvious from the start that mum was going to get excellent and reliable care. It was a great relief and if mum needs more help at any time, i'm confident that Extra Care will help. Mum sees 3 carers. She looks forward to seeing them all. They are all excellent, but at the same time each has something different to offer which is great!!" (JA)
"I am so pleased that we engaged Extra Care to look after mum. She regarded you all as her friends and took a great interest in you all. Everyone was always so kind to her, making sure that she was comfortable and had everything she needed… I would like to say how much I appreciated the support that I received from you all. I was at a loss as to how to motivate mum when she broke her ribs and everyone allowed me to talk and get things off my chest. Extra Care deserves the awards you have received. You do value and respect the people you care for and you certainly helped mum stay at home. Carry on doing the things the way you are doing then!" (AC)
"I would like to thank you and your staff for taking such good care of mum over the past months, particularly as her dementia has progressed. I have no doubt that, if it wasn't for her increased vulnerability due to this, that you and your team would have enabled her to stay at home." (LW)
SERVICE USERS AND FAMILY MEMBERS FEEDBACK JANUARY/FEBRUARY 2018
"My carers are all friendly and I am happy with what they do for me"
"My last domestic help was very good, I was grateful for all she did for me and I felt my home was being well looked after" RM
"First class service which has given our family peace of mind knowing that Mum's wishes are followed and respected. Many thanks to Sarah & Alex for so quickly arranging the additional care after mum was discharged from hospital" FC
"From my telephone conversations with carers who have been professional & kind at all times." HC
"Excellent relationships, with immediate contact/feedback re mum & her needs/condition"
" A big thank you to you all for your support and kindness. I would not have managed without all the girls" AT
January 2018
Check out the link to read all about our achievement in becoming a finalists in the Skills for Care Accolades.
http://www.northnorfolknews.co.uk/news/extra-care-home-services-of-north-walsham-up-for-skills-for-care-accolades-award-and-norfolk-care-award-1-5374566
WOW WOW WOW December 2017
We have received fantastic news this week and found out we are finalists in the Norfolk Care Awards 2018 for our "Person Centred Care"  and we will be off to the celebrations in February 2018. Not only that but we are now top three finalists in the Skills for Care Accolades. This is the Oscars of the Care Awards and is a National award which we are even more excited about. This ceremony is in March 2018.

Family Member letter received December 2017
"Thank you to you and all your wonderful ladies who have looked after Mum for the last year. Everyone has been so kind to her and she is grateful for all the care and attention she has received."
The 'In Good Company' press release …
 
SERVICE USERS TESTIMONIAL OCTOBER 2017
"All friendly. I can have a laugh and joke with them all." (MH)
"In Good Company PLUS Mark"
We are delighted to let everybody know that we have been awarded with the "In Good Company PLUS Mark" Award. Sarah attended County Hall on Friday 29th September for the certificate ceremony. Sarah pictured here with Peter from The Good Neighbour Scheme and the North Walsham Deputy Mayor. Look out for the press release this week (3rd October).
FAMILY MEMBERS TESTIMONIAL AUGUST 2017
Thank you for your condolences and care you gave to J (MG)
On behalf of the C & L families. I would like to say thank you and the team of carers who visited RC every day. Thank you for the care you and your team provided (GL)
 FAMILY MEMBERS TESTIMONIAL JULY 2017
"Both X and I appreciate Sarah's professionalism." (WJ)
"A very professional and caring service" (WJ)
 FAMILY MEMBERS TESTIMONIAL JUNE 2017
"All my carers are friendly and helpful if I need it" (DB)
"Thank you for making my parents move to North Walsham comfortably." (GL)
"Very professional and give wonderful care to our father. He enjoys their company. Always ready to help." (BH)
"All I can say is the service Extra Care provide is excellent, could not manage without Sarah and her girls. Staff are always caring and very friendly. We know our dad is safe in their care." (BH)
"Mrs X carer is always so thoughtful" (FC)
SERVICE USERS TESTIMONIAL JUNE 2017
"We have had a good year" JT
FAMILY MEMBERS TESTIMONIAL MAY 2017
"Sarah & Staff. Thank you for all your care and kindness shown to M. He looked forward to your visits morning and evening. If we had taken him out for the day, he always said "I must be home for when my nurses come." Thank you for all most sincerely. You do an excellent job- keep up the good work. All good wishes." (BH)
Extra Care Mobility 
Extra Care Mobility is a new local business within North Walsham which sells daily living aids, specialist dementia aids and mobility equipment. We are located within North Walsham Market Place. Norman Lamb MP will be visiting Extra Care Mobility on Thursday 18th May at 11:00 to officially open the shop. Check out our page on Extra Care Mobility.
Home care company backs campaign to recruit more carers
Caroline Kingdon
BBC Local Live
Posted at11:57
The county council hopes a new website will help solve the crisis in carer recruitment in Norfolk.
Sarah Thompson runs Extra Care Home Services in North Walsham. She says struggling to recruit carers but told BBC Radio Norfolk's Nick Conrad  is an "incredibly rewarding job".
"We want to get more people into the care profession, especially younger people as there's progression within the role," she said.
Sarah thinks the online campaign will make a difference and help a lot of people looking for positions in the care industry as it has the backing of the county council.
The level of support a lot of people need within their homes and in residential homes is incredibly tough… some people may find that too hard emotionally as well as physically."
Sarah Thompson Extra Care Home Services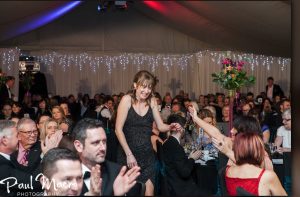 We are over the moon that we came home with not just one but two awards this year from The Norfolk Care Awards 2017. Our awards were for "Motivational Leadership" won by Sarah Thompson (Registered Manager) and "Rising Star" won by Alex Marks  (Deputy Manager).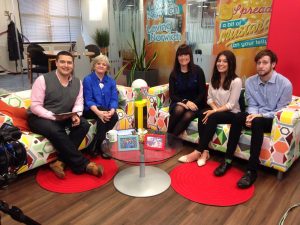 Check out Alex our "Rising Star"  on Mustard TV 7/2/17 for the Norfolk Care Awards 2017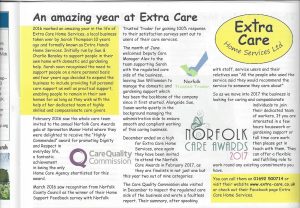 Check out the latest edition of The North Walsham Times issue no 511 January 28th 2017. (click to enlarge image)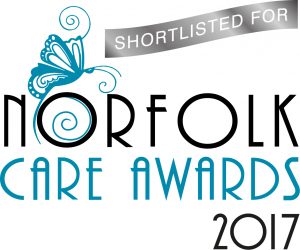 http://www.norfolkcareawards.co.uk
We were delighted to hear that we are shortlisted finalists in the Norfolk Care Awards 2017 to be held at Sprowston Manor Hotel on 23rd February 2017. This is a massive achievement in a year where there were the most ever nominations received. Photos to follow in February watch this space ……………
CUSTOMER TESTIMONIALS DECEMBER 2016
" A very professional team from the very start of looking after my parent, which in turn is a big help to the family" (SO)
" I am very pleased with the service" (SN)
" We are all extremely satisfied with all care given" (BH)
" All our gold star" (TR)
CUSTOMER TESTIMONIALS JULY 2016
We have been so blessed to have had the loving support of you and your girls over the last few years. Without you all, Mum would have been unable to stay for so long in her own home. We have such happy memories of you all we would like to thank you in particular Sarah for your professionalism, your great empathy & your utter devotion to Mum. She could not have received better care anywhere and we shall be forever grateful. With love P,J & families
"Everyone does an excellent job, so caring and helpful. Thank you so much" (BH)
"nothing negative! As always, huge praise for everyone involved" (AC)
" The service given to our father has been excellent" (BH)
"First class service care comes first. Thank you" (FC)
" I feel very confident that my mother is secure and her needs are understood. She enjoys the company and care from the majority of carers who support her. I am totally confident in the team to fulfil their responsibility to Mum but also to note any issues / changing needs, feed back to management and then to me. Thank you" (CT)
"very happy with the service"
"the service provided is 100%" (JC)
" Excellent service showing great care for my wishes and comfort" JE (Aug 2016)
North Walsham Home Care company awarded "Highly Commended" in the Norfolk Care Awards 2016.
Extra Care Home Services Ltd of North Walsham made it through the 156 nominations for this years Norfolk Care Awards to be awarded Highly Commended in the category "promoting dignity and respect in everyday life".
Rewarding the best of the best in adult social care across Norfolk. The 3rd Norfolk Care Awards was attended by over 300 people on 25th February 2016 at Sprowston Manor Hotel. We saw the best of the best receive recognition for the hard work and dedication they demonstrate day in, day out, while delivering care and support to the people of Norfolk. The awards demonstrated a wealth of dedication, inspiration and innovation. Harold Bodmer (Director of Community Services at Norfolk County Council) spoke passionately about how hard people in social care work and how committed they are to delivering the best possible care and support.
Sarah Thompson (owner & Registered Manager) said she was absolutely delighted that the company had made it through to the shortlisted finalists. To receive "Highly Commended" is an amazing achievement and accolade of the fantastic work the carers do to make a difference to the lives of the people we support.